Quality Control Program
GENERAL INSPECTION PROCEDURE (STEP BY STEP)
RAW MATERIAL INSPECTION
SEMI ASSEBLY INSPECTION
ASSEMBLED TTEM INSPECTION
PAINTING ITEM INSPECTION
PACKING AND DELIVERY INSPECTION
---
RAW MATERIAL INSPECTION PROCEDURE
The quality contra! department does the process of inspection of raw
material on receipt at the factory or visits the supplier warehouse along with
the purchase personnel to select the required nnaterial.
The raw materia! below standard quality or other defects will be rejected or
returned.
INSTRUMENTS USED FOR INSPECTION
The inspection department uses following instruments for inspection of-raw
rna+eria) used for fabrication.
A. VERNIER CALIPERS
B. MEASURING TAPE
C. ANGUtAR RULER
D. SCREW GUAGE
E. MOISTURE CONTENT MEASURING METER
---
WOOD DRYING& MOISTURE CONTROL PROCESS
After receiving of wood. at the factory ware house its moisture content is
checked with the help of an insfrument and according to the percentage
of moisture the wood is separated into three types.
TYPE 1:
This type of wood is already kiln dried having a moisture content less than 12%. This wood is dfrectly sent to the production department for fabrication.
TYPE 2:
The wood containing moisture contents between 12% to 20% is used for ail structural frames except doors. This wood is placed where it can absorb the solar heat. The time for the heat absorption depends upon the specie of wood and subject to the climatic conditions.
TYPE 3:
The wood containing moisture contents above 20% is included in this type. This wood is dried in the kiln chamber.
---
---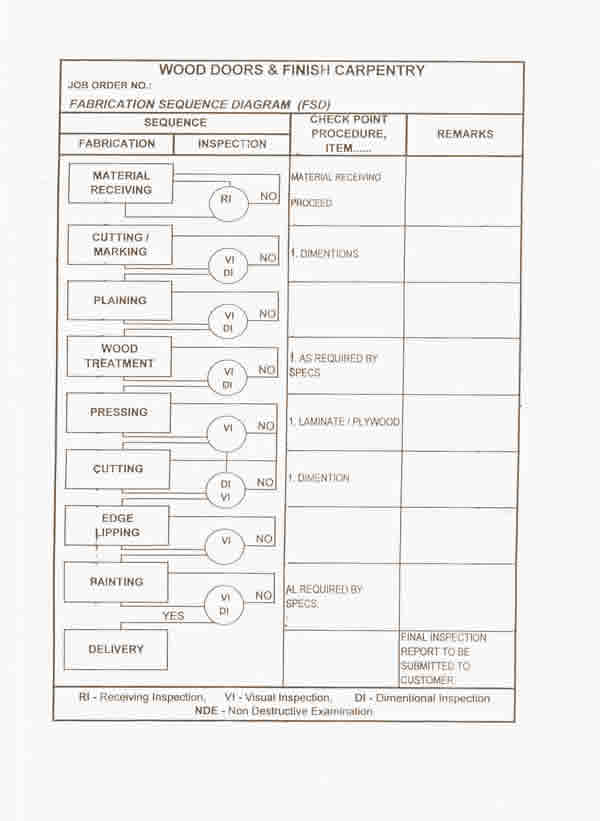 ---