About Us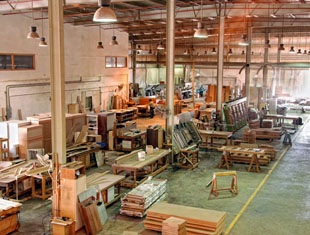 It is a great pleasure and pride for us to introduce our company MODERN WOODWORKS , a leading furniture manufacturing unit based in 2nd Industrial City , Dammam , Saudi Arabia with its branch in Bahrain with a sound practical experience of more than forty(40) years in Kingdom of Saudi Arabia and five years in Kingdom of Bahrain.
We are specialized in the production of solid paneled doors, decorative doors, veneered and marquetry designed doors, flush doors, folding doors, wardrobes / closets, kitchen cabinets and furniture for hotels and homes and work top designed according to the architects and client's requirements.
In 2002, a new plant erected when most of the production process was introduced with latest computerized data command and process, CNC flexicam and erection of new painting plant with its separate building along with a quality controlled inspection system to maintain the highest standard of quality. The combination of expertise in wood-handling and finishing with usage of best quality imported raw material has made possible for us to get continuous achievements in quality and to meet our slogan 'A Commitment to Excellence'. It is also the part of our commitment to supply a complete service to the customer all over the Kingdom, from unit production and process to a complete project.
We have served major projects for Government & Private sectors in the Kingdom & G.C.C. such as SAUDI ARAMCO, SAUDI ROYAL ARMY, SAUDI ROYAL NAVY, SAUDI ROYAL AIR FORCE and many other sectors such as shops and private villas / palaces.
MODERN WOODWORKS is also registered with ROYAL COMMISSION, SCECO as one of the qualified suppliers for quality furniture and wood product and registered as a contractor with SAUDI ARAMCO and has served in many of the projects with them.
In future, the company's plan is to go on developing new constructions and designs in wooden furniture for which it is famous and adapting them to suit the changing demands of its customers.
We are extremely hopeful for developing a new business relationship with you and want to enlist you as our most favorable client.
MODERN WOODWORKS
SAUDI ARABIAP.O. Box #. 879, AL-KHOBAR 31952
Kingdom of Saudi Arabia
Tel. #.00966 3 -8123551, 8123552
Fax. #.00966 3 8123404

E-mail: info@mww.com.sa

BAHRAINPO Box #. 432, Manama
TEL #. 00973 17 466778
FAX #. 00973 17 466710

E-mail: mwwbah@batelco.com.bh